GRSA Projects
Projects we have spearheaded include an Orange County Neighborhood Improvement grant for historical signage that identifies the entry points of the Gotha Historical Rural Settlement. Our Board members designed the signage, wrote the grant, worked with Orange County Neighborhood Improvement and our District 1 County Commissioner and raised the funding for installation of the signs.
Currently, the 1916 Gotha Schoolhouse AKA Gotha Community Center is managed by the Gotha Rural Settlement Association, Inc.  Plans for the building and property include the below priority list.
Check out our Rentals tab for more information about renting out this historic space!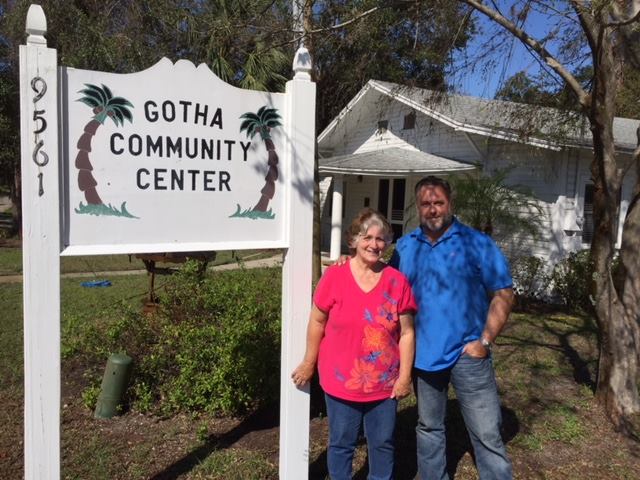 Dine, Shop, & Explore Gotha
GRSA Priority List
Upgrading the well with water purification systems.
Stabilizing the piers and building foundation.
Getting 1916 Gotha Schoolhouse AKA Gotha Community Center listed on the National Register for Historic Sites.
Restoration of the Frame Vernacular architecture 1916 Gotha Schoolhouse AKA Gotha Community Center building.
Landscaping around the building, arboriculture on the historic tree canopy. Replanting flowering trees, native wildflowers and other plants from Gotha's historic horticultural legacy.
Securing property in a Foundation to protect land and building in perpetuity (Club House Lot/Building and 15' parcel).
Restore historic fixtures and bathrooms.
Coordinate with Florida Turnpike Authority and Orange County to fix curbs and berms with permanent solutions for storm water run-off from Turnpike overpasses and bridges.
Installing pollinator gardens and Florida Native trees through Gotha to support local biodiversity.
Update irrigation system around 1916 Gotha Schoolhouse AKA Gotha Community Center.
Install a walkway from parking lot to building porch.
Update signage in front of building.
Restore 1916 Gotha Schoolhouse AKA Gotha Community Center trophy case and display historic photographs of 1920-1930 Gotha agriculture exhibits from which trophies were won. Display photographs of Gotha's historic sites.
Add brick inserts and sidewalks on Gotha Road, Hempel Avenue and other crosswalks in Gotha.
Fabricate copies of historic Gotha signage for hanging in the 1916 Gotha Schoolhouse AKA Gotha Community Center.
Lakefront restoration on Lake Mills.
Work with Foundation for the Historical Zion Lutheran Church of Gotha Inc. for the restoration of the historic Zion Lutheran Graveyard, 1001 Hempel Avenue, Gotha.
Beautification of Klein's Corner (corner lot on Hempel and Gotha Parkridge).
Coordination with the U.S. Post Office for beautification of the lot.
Seeking To Show Your Support For Gotha?